Baloise Antwerp 10 Miles 2023 – Practical information
Meanwhile, our registrations have been closed for a while now and Sunday, April 23 is approaching quickly. Time for some more information!
Below you will find the general practical information. During the week of Monday, April 17, each participant will receive a personal email with the specific start time (all runners of the 10 Miles will start in wave 4 – 2.45 p.m.) and location of our Sportsticker tent (nr. 124). 
General information
GENERAL INFORMATION
Program
Sunday, April 23, 2023
11:30 a.m.: Baloise Antwerp Short Run (6.8K)
1:30 p.m.: Baloise Antwerp 10 Miles (starting in 4 waves: 1:30 p.m. – 1:55 p.m. – 2:20 p.m. – 2:45 p.m.)
Location of the company village
Company village Antwerp 10 Miles (tent number 124 – AUHA Sportsticker)
Charles De Costerlaan
Linkeroever
Pick-up of bib numbers
You can pick up your bib number at our tent in the company village. You can only register with your student or staff card!
You can come and get it from 10:00 a.m. Be sure to arrive on time as there are a lot of participants. This will help you avoid long queues.
Extra: since we have reached almost 1.000 participants, there will be some extra moments to collect your bib number:
Storage space for sports bags
You can also leave your sports bag at our tent. A bracelet with a unique number will be attached to your bag and you will receive a sticker with the same number to stick our your bib number. After participating in the event, you can retrieve your sports bag by presenting your sticker.
Some recommendations:
Use a well-sealable sports bag and make sure it is properly closed so that no items can fall out of your sports bag.
Make sure all of your clothing items fit in your bag (no separate jackets or sweaters).
The organization is not responsible for any damage, loss and/or theft op personal belongings.
Accessibility information
The Baloise Antwerp 10 Miles takes place on Linkeroever and in the city center of Antwerp.
Are you from Antwerp itself? Then cycling is the easiest way to get around.
Not from Antwerp? Save yourself a lot of trouble and come by train or park at one of the Park and Rides around Antwerp and transfer to the tram or shared bike.
You can find all accessibility information here.
Be sure to arrive on time, as it will be very busy on Sunday, April 23!
Changing the distance?
Do you want to change your distance? This is possible until Wednesday, April 19, 2023:
Send an email to info@sportsticker.be with your request to change the distance.
After receiving a response, you will be sure you can change the distance. You will receive the necessary information about your new distance.
Changing to a shorter distance is free. For a longer distance, the difference in the full participation fee (without the student discount) will be charged.
Site plan
Here you can find an overview of the site plan: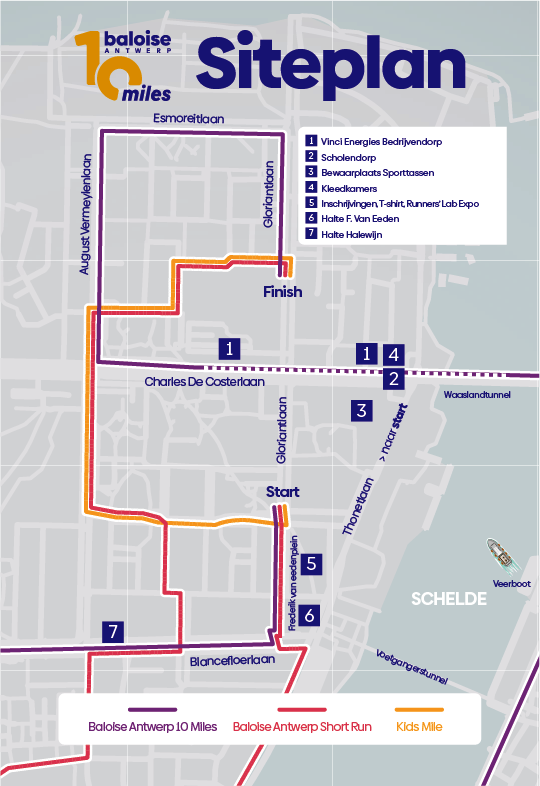 Baloise Antwerp Short Run
Baloise Antwerp Short Run 6.8K
Practical information
Starts at 11:30 a.m.
Start: Gloriantlaan (Linkeroever)
Last start: 11:55 a.m.
Finish: Gloriantlaan (Linkeroever)
Course: 6.8K
Beautiful course around the Galgenweel with a stunning view of the Antwerp skyline
Refreshments
There will be one refreshment station on the course (at kilometer 3.1) with water. There will be a final refreshment station at the finish line.
Course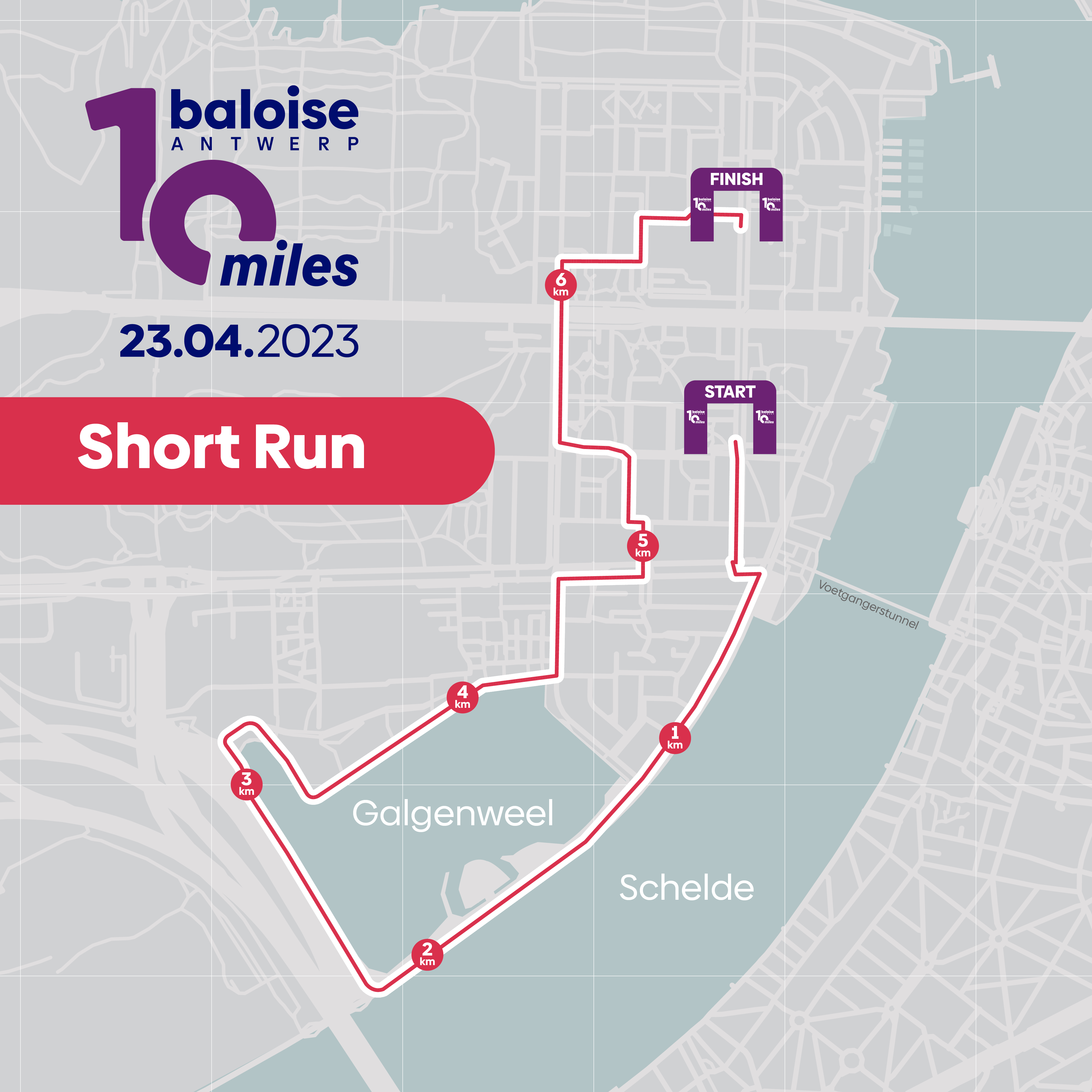 Baloise Antwerp 10 Miles
BALOISE ANTWERP 10 MILES
Practical information
Start: Gloriantlaan (Linkeroever)

Wave 1 (+ starting box): 1:30 p.m. – access from 1:15 p.m.
Wave 2: 1:55 p.m. – access from 1:40 p.m.
Wave 3: 2:20 p.m. – access from 2:05 p.m.
Wave 4: 2:45 p.m. – access from 2:30 p.m.

Last start: 3:05 p.m.
Finish: Gloriantlaan (Linkeroever)
Course: 10 miles = 16K
Time limit: 2.15h (to ensure the last runner crosses the starting line, you have 2.15 hours to reach the finish line)
Starting waves
Starting in an earlier wave is not possible. If a friend is running in an earlier wave, you cannot start in that wave with them. A check will be carried out at the entrance of the starting area based on your starting number, which indicates your assigned wave. However, starting together in a later wave is possible. You do not need to take any action, and you will be granted access to a later wave with your starting number. Starting in a later wave is not disadvantageous; you can start calmly, and there will be pacers – including for fast runners – in each wave.
Refreshments
There will be four aid stations along the course:
Aid station 1: at 1.9K (water)
Aid station 2: at 7.1K (water)
Aid station 3: at 10.5K (water + AA Drink Isolemon)
Aid station 4: at 14.8K (water)
There will be a finish line refreshment station as well.
Pacers
Do you have a specific time in mind? On Sunday, April 23, a team of pacers will be ready at the start to guide you to that time! Pacers will be provided for 1 hour, 1.10 hours, 1.20 hours, 1.30 hours, 1.40 hours, 1.50 hours, 2 hours and 2.15 hours. Pacers are easy to spot in your starting area with their colored flag indicating the finish time. A wristband with split times per kilometer that you need to run to achieve your desired finish time will be provided for each participant. These bands are available for free at the registration zone (and not at our own tent!).
Course